---
September 14th, 2015 - submitted by StockLight team

StockLight was all over the front page of Australia's biggest newspaper today when News Limited ran a piece on our new 'Insider' director transactions feature.
A great writeup from Frank Chung and syndicated across to: The Weekly Times, The Daily Telegraph, The Herald Sun, Adelaide Now, Perth Now, Gold Coast Bulletin, Townsville Bulletin, Cairns Post, NT News, Geelong Advertiser, The Courier Mail, The Mercury, The Australian
---
September 8th, 2015 - submitted by StockLight team
StockLight has launched it's biggest update yet with today's launch of the new app to the App Store and Google Play.
"We are thrilled to be giving away StockLight 2.0 to Australian investors" said Jason Kotchoff, StockLight's founder. "With over 2,000 listed companies to choose from and the big fund managers controlling 86% of the money, less then 1% of investors (the professionals) have historically had access to such advanced investing tools." "By providing access to quality market research in such an accessible medium, we are helping to put the power back into the hands of the investing public."
---
August 10th, 2015 - submitted by the StockLight team
In a world first, StockLight is now publishing director transactions and holdings from ASX company insiders to our new Twitter account @ASXinsiders.
When a director buys or sells shares in a public company for which they sit on the board, corporate governance obligations require them to report their transactions and holdings to the ASX.
Until now, there has been no easy way for retail investors to track these holdings and transactions as they happen. That changes today as StockLight is now disclosing not only the trade details but also the ownership stake of the director involved as both a rough monetary amount and as a rough overall percentage of the company.
As anticipation builds towards the next StockLight release, this gives a sneak peak towards the powerful new tools and filters our users can look forward to in what is shaping up to be the most comprehensive StockLight app update since launch.
Insider activity can be a good starting point to further investigate a company however note that as with other StockLight data, it should not be used alone as an indicator to buy or sell a stock.
---
June 10th, 2015 - submitted by the StockLight team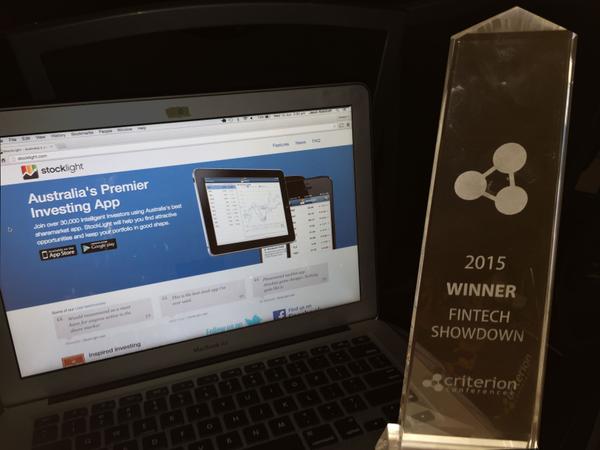 Criterion conferences invited StockLight up to Sydney to participate in their collaboration in Fintech conference and participate in a pitching competition between half a dozen startups adjudicated by venture capitalists Craig Blair of Airtree ventures and Ilan Israelstam of Apex capital.
StockLight was awarded the trophy for best in show based on a combination of traction, presentation, business model and team.
Huge honour for us, thanks for the invitation!
---
February 6th, 2015 - submitted by StockLight team
StockLight has a full page spread inside the back cover of this months Money Magazine.
Grab a copy of February's Money Magazine edition to get $90 off StockLight and Intelligent Investor.
* offer limited to new users only