---
March 6th, 2017 - submitted by StockLight team
Following on from the recent release of portfolio tracking, StockLight now also offers server backups of your watchlist and portfolio.
When you update to the latest version of the app, you will now be able to log into your StockLight account on all your devices in the Settings screen of the app. See the 'How do I synchronise my portfolio and watchlist across devices?' question on the website FAQ page for more details.
When logging into multiple devices such as an iPhone and an iPad using the same email account with StockLight, this will ensure that your watchlist and holdings are automatically copied across the devices each time you first open the app.
Note: The email address you enter into iTunes and Google Play when making a 'StockLight Premium' or 'Remove Ads' in-app purchase is not shared with StockLight. In order to have your portfolio backed up by our secure server, you need to enter your email address directly into the app itself either when taking out a 15 day free membership or from the StockLight Settings screen.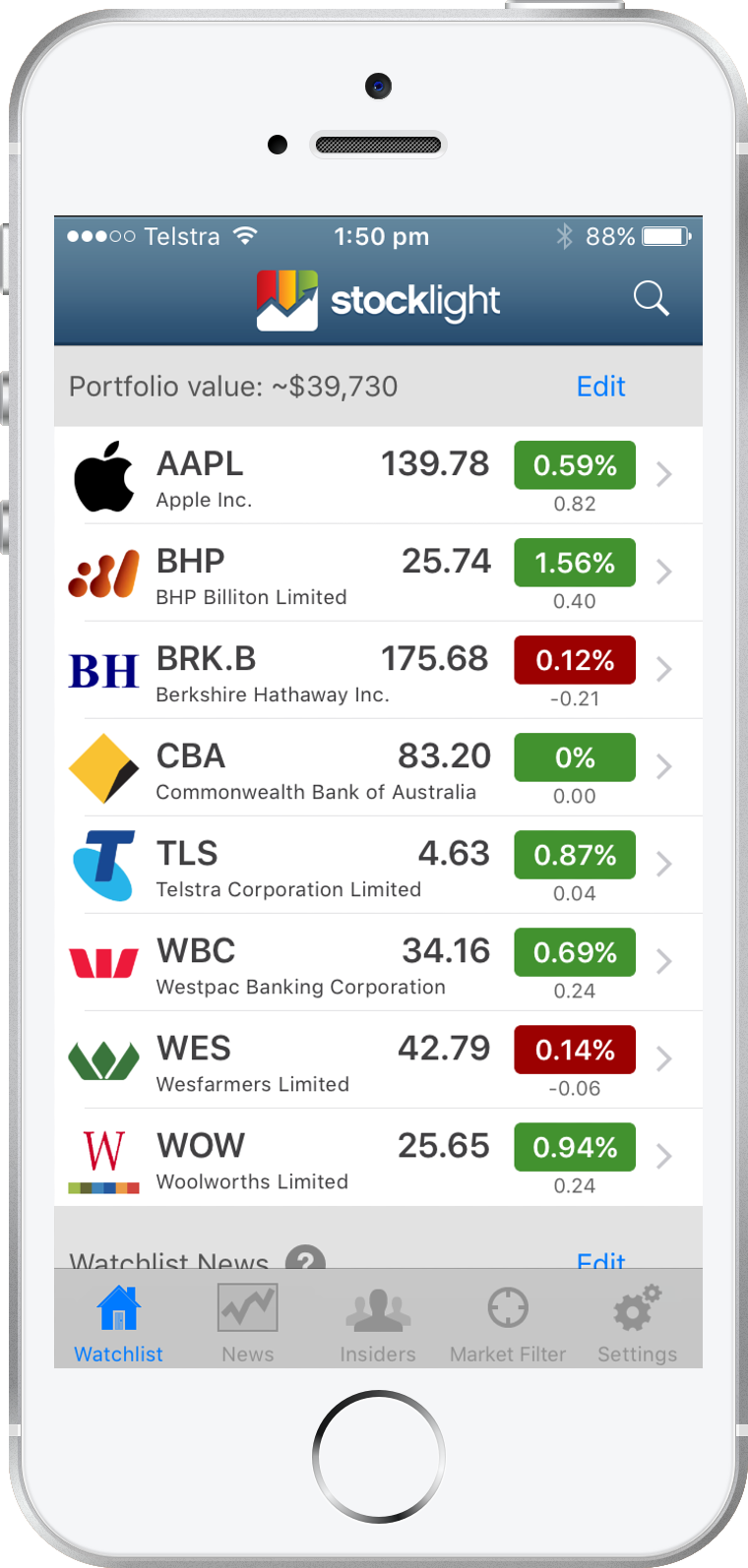 ---
November 17th, 2016 - submitted by StockLight team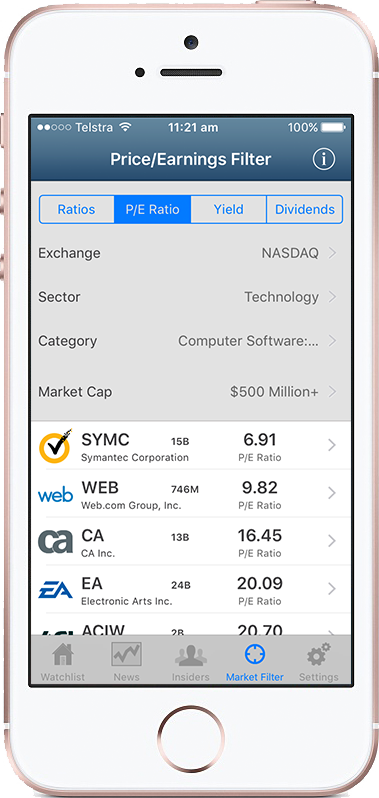 In response to overwhelming demand from StockLight users, we have introduced support for the NASDAQ & NYSE stock exchanges.
Now you can use Australia's favourite stocks app to track american businesses like Apple, Telsa Motors, Berkshire Hathaway, Facebook and more.
Over 3,000 stocks from the NASDAQ have been added as well as close to 3,000 stocks from the NYSE and over 300 stocks from the NYSEMKT.
With push notifications of dividends, insider trades, price history and annual report 10-K PDF documents all found in the same place, StockLight is now your go-to research tool for stock investing in North America.
---
March 7th, 2016 - submitted by StockLight team
Canstar interviews Jason about competition, challenges and expansion.
https://www.canstar.com.au/wealthbricks-news/stocklight-cutting-through-the-noise/

---
November 26th, 2015 - submitted by StockLight team
Did you know that Twitter lets you research stocks using ticker symbols like $BHP?
Cashtags were originally pioneered by american website StockTwits prior to being adopted by Twitter and provide for a structured way to tag social media commentary against listed companies.

---
September 15th, 2015 - submitted by the StockLight team
StockLight today announces a partnership with Australia's leading provider of video market commentary; Finance News Network (FNN).
FNN regularly conduct exclusive video interviews with ASX CEO's by putting them on camera to highlight company results, discuss strategy and project future outlooks. StockLight has developed a proprietary in-app video player and FNN integration to redistribute this content to our entire audience of Australian investors.
Yesterday, Sydney Airport CEO Kerrie Mather featured in our first video. Any StockLight subscriber who held a premium subscription and had their watchlist configured to track ASX:SYD received a notification about it straight to their devices News Feed. StockLight is proud to be Australia's first mobile app to offer CEO interviews as we continue to innovate new ways for every day Australians to research and invest like a professional.
Simon Van Es, Finance News Networks MD comments, "As a user of the Stocklight platform we are delighted to be contributing to what is already a fantastic tool for investors."